ON SALE+FREE SHIPPING 3 PACK SPECIAL VERSION 2500# FISH HOUSE WINCH'S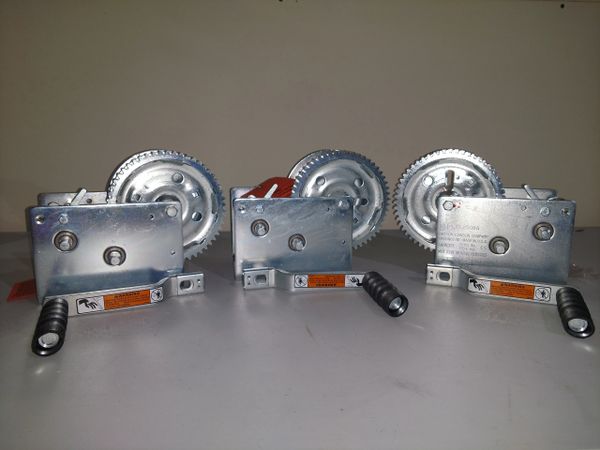 ON SALE+FREE SHIPPING 3 PACK SPECIAL VERSION 2500# FISH HOUSE WINCH'S
CUSTOM BUILT FISH HOUSE WINCH'S ONLY SOLD AND BUILT FOR FISH HOUSE FACTORY'S OR DISTRIBUTORS WITH (2 WAY BRAKE RATCHET COG ) SPECIAL (6"QUICK RELEASE HANDLE TO FIT INSIDE WHEEL WELLS) LEFT HAND AND RIGHT HAND BUILT. SPECIAL GEAR RATIO FOR LIFTING. FREE SHIPPING . 
In a hurry these winch's usually ship in one business day or same day by Spee-Dee Delivery a receipt and tracking information will also be emailed to you after purchase.
Here we have three winch's custom built for fish house use these are the same winch's used on Ice Castle Yetti & Glacier 8x16 and up as well as tandem axle .These winch's offer the best gear ratio for lifting all the way up to 26 ft tandem axle toy haulers. You can add these winch's to home built houses as well as forest river models lodge and 6.5 ft model houses they will bolt on the same as your old winch's easy to install with simple tools.

the system works amazing its like having a hydraulic fish house. The benefits of this system you can use your 18-20 volt 1/2 Drive cordless drill with lithium ion batteries so you have no wires in the house to run .No electric winch's to go bad corrosion no hydraulic pumps and hoses to go bad with a good drill this system is amazing works well in the summer for boats as well or to beat the heat moving your house at the campground.
This kit is for 1 left and 2 Right Winch's
Fits all 8′ wide models as well as 6.5ft models and Tandem Axle

High carbon steel heat-treated gears

Permanently lubricated bearings

Reversible 2 way brake ratchet with brake cog, ergonomic short handle to fit in wheel wells.

Quick-attach handle allows easy change for cordless drill operation.

Zinc TUFFPLATE finish

Short Handle's included

2500#  2 RH 1 LH Winch.

Cables not included.

Ship weight 45 pounds

Custom built winch made in Usa 5 Year Manufacturer Warranty.