Grain Auger Hand Winch with TUFFPLATE Zinc Finish, Two Speed with Direct Drive 2-Way Brake Ratchet Cog- 2500# Includes Tools For Cordless Drill Operation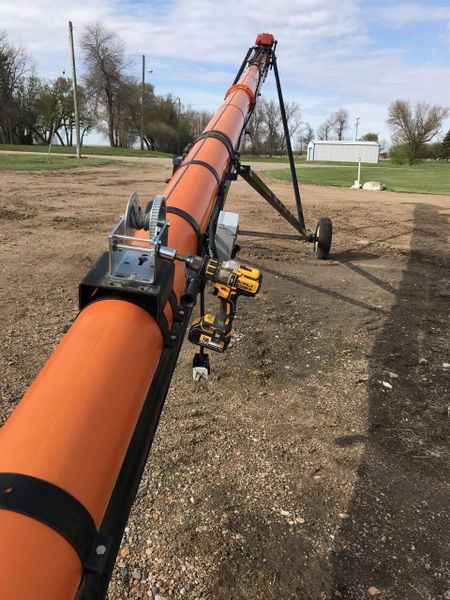 Grain Auger Hand Winch with TUFFPLATE Zinc Finish, Two Speed with Direct Drive 2-Way Brake Ratchet Cog- 2500# Includes Tools For Cordless Drill Operation
Special Version Hand Winch 2500 lb w/ 2 Way Brake Ratchet Cog To Hold A load In Both Lowering and Raising, Plated Tuff Coat Zinc Finish Includes Tools For Cordless Drill Operation.
Model 2500 Special Version Winch, with Handle included.
High carbon steel heat-treated gears, permanently lubricated bearings, 2 way ratchet, ergonomic handle grip. Quick-attach handle allows easy change from high speed to low gear, for heavier loads. Zinc TUFFPLATE finish.
Model 2500
Rated Capacity 2500 lb/1134 kg
Drum Hub Dia. 1-1/8"
Gear Ratio 17.3:1 / 5.4:1
Handle Length 6"
Max Mech. Adv. 229
Reversible Ratchet Yes
2-Speed Operation Yes
Fast shipping with tracking.
Our winch's are custom built unlike a marine winch they offer a two way brake ratchet cog reccomended to raise your auger or conveyor with a cordless drill and to lower using the handle on the high speed winch shaft. Our winch's usually bolt on the same as your existing winch you will enjoy not cranking your auger up anymore saves time energy and keeps you cool on them hot days.
Custom built winch made in Usa by Dutton-Lainsion company 5 year warranty thru Manufacturer.
This item we do not ship outside of the United States if you order your order will be voided credit will be given less our processing fees.