Factory Style Single Axle Premium High Quality High Flex 304 1/4 Stainless Steel 3 Replacement Cable Kit For 6.5ft- 8x16 And up Ice Castle Home-Built (CABLE CLAMPS UNDER HITCH)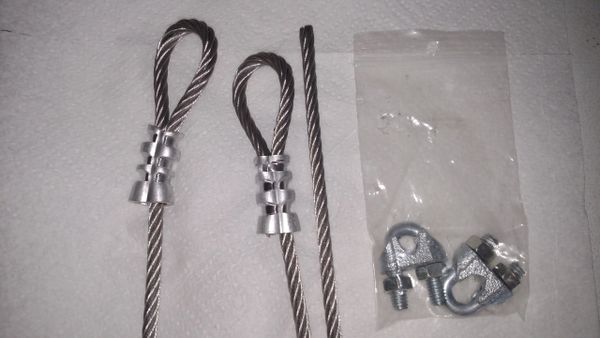 Factory Style Single Axle Premium High Quality High Flex 304 1/4 Stainless Steel 3 Replacement Cable Kit For 6.5ft- 8x16 And up Ice Castle Home-Built (CABLE CLAMPS UNDER HITCH)
IN A HURRY WE SHIP FAST This kit will not work on forest river models or Yetti please see forest river cable kit and Yetti Cable kit in our cable section .
 THIS ITEM IS IN STOCK AND SHIPS PRIORITY MAIL ARRIVES IN ONE TO 3 BUSINESSES DAYS WE WILL SEND YOU TRACKING INFORMATION AND A RECEIPT BY EMAIL AFTER YOUR PURCHASE THANK YOU.
This cable kit includes enough cable for a Ice Castle, Lodge or Home built fish house's. 6.5ft- 8x16 and up non tandem axle. Will work with 6.5ft models as well . Kits contains two side cables and one front cable the side cables have factory crimps and the front cable comes with two clamps .

We sale a high grade quality 304 stainless steel high flex cable not found in stores a better replacement cable kit for your fish house.
Kits include the exact cable length for both side axle winch's and the front winch cable on the front of the trailer .
Having an extra set of cables around home is not a bad idea just in case in the event that yours breaks or simply is just worn out due to use and rust .
Kits are cut and packaged here and will include 3 cables cut to fit so u can replace the cables yourself with simple household tools. We ship fast so u will have your kit in a hurry this Ice fishing season.