THE MEGA KIT. Our best tool kit for lifting Ice Castle,Yetti,Glacier or Home built Fish houses. Install on all 3 winch's . Our best seller !!! Works great on tandem axle houses as well Lifetime Nut Warranty.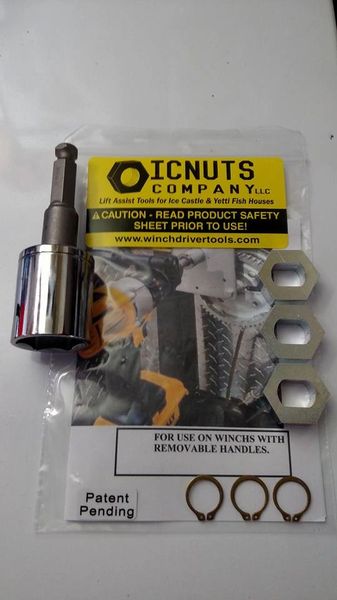 THE MEGA KIT. Our best tool kit for lifting Ice Castle,Yetti,Glacier or Home built Fish houses. Install on all 3 winch's . Our best seller !!! Works great on tandem axle houses as well Lifetime Nut Warranty.


For use with Dutton-Lainson special version 2500# fish house winch's or Marine with quick attach handles (No nut holding winch handle on)
IN A RUSH FOR ICE FISHING NO WORRIES WE SHIP FAST USUALLY SAME DAY THIS ITEM SHIPS FAST PRIORITY MAIL ARRIVES IN 1 TO 3 DAYS EVEN SATURDAY DELIVERY.
The Mega kit is our best seller for fish houses with three winch's . Our ICnuts Mega kit will work with factory brand fish houses this is a great addition to these models Ice Castle 8x16 8x17 8x18 including tandem axle tested to 24ft  Yetti 8x16 6.5x16 Glacier 8x16 and up. Also if your building your own fish house you can use this kit as well we offer winch kits with tools listed on our home page. Several are buying our winch's for there 6.5 ft model fish houses as well or other brands such as forest river models or lodge they usually bolt on with the same bolt pattern.
ICnuts (nut) are made here in Minnesota we wanted to make a very high quality system to raise fish houses we believe in  manufacturing high quality components so our customers will get many years out of our tool kits. Using a tool that is improperly machined or is made out of cheap quality materials can cause damage to your winch.
The ICnuts system reduces vibration thru the winch it also protects the winch shaft from getting damaged to the outer winch shaft so handles do not fall off on the highway other bits on the market have caused damage because of improper machining and or poor quality materials or poor manufacturing and vibration cheap is not always best.
With this system there is no need to modify your fish house by putting on electric winch's that eventually fail from sun and rain or trapped moisture there is no wires no corrosion using a dry drill with a good lithium ion battery is the way to go in the event you forgot your drill at home you can still use the factory winch and continue your weekend time is valuable we only offer high quality components so you can enjoy your time out on the Ice or camping hunting etc this system will make your life easier.
3 ICnuts winch driver tools (nut) (Life time breakage warranty ) Grade 50 steel zinc coated to help prevent rust.
1 industrial drill to socket adapter for 1/2 drills cordless drills.
1 socket  

Here is how they work the user will install the ICnuts on the low speed winch shaft as shown in photo below . When you lower your fish house you will lower it using the handle on the high speed winch shaft this is the safest way do not use a drill to lower the house drills are not meant to hold a load in reverse. Ok its time to raise your house up pop quick release handle off the winch use a drill in low gear set winch in the proper direction for lifting start slow with drill apply a light trigger until you know its lifting correctly then apply more trigger to power lift the fish house faster.
We recommend 18 volt and up cordless drills with lithium ion batteries we have seen lower voltage drills work remember it does not take much effort to turn the low speed shaft your cables and pulleys carry most of the weight and also any drill is more powerful then most of us .
DO NOT USE AN IMPACT OR HAMMER MODE ON YOUR DRILL THIS WILL EVENTUALLY CAUSE DAMAGE TO YOUR WINCH.
This item will ship priority mail it will arrive in 1 to 3 business days most of the time its 1 to 2 days we ship orders very fast.
We do not ship outside of the USA.
If you have further questions feel free to call us thanks . 

Please if you love our products our service the best thanks you can give us is to tell a friend or the fish house next to you about our products . VISIT ICNUTS COMPANY LLC ON FACEBOOK GIVE US A GREAT REVIEW  THANK YOU.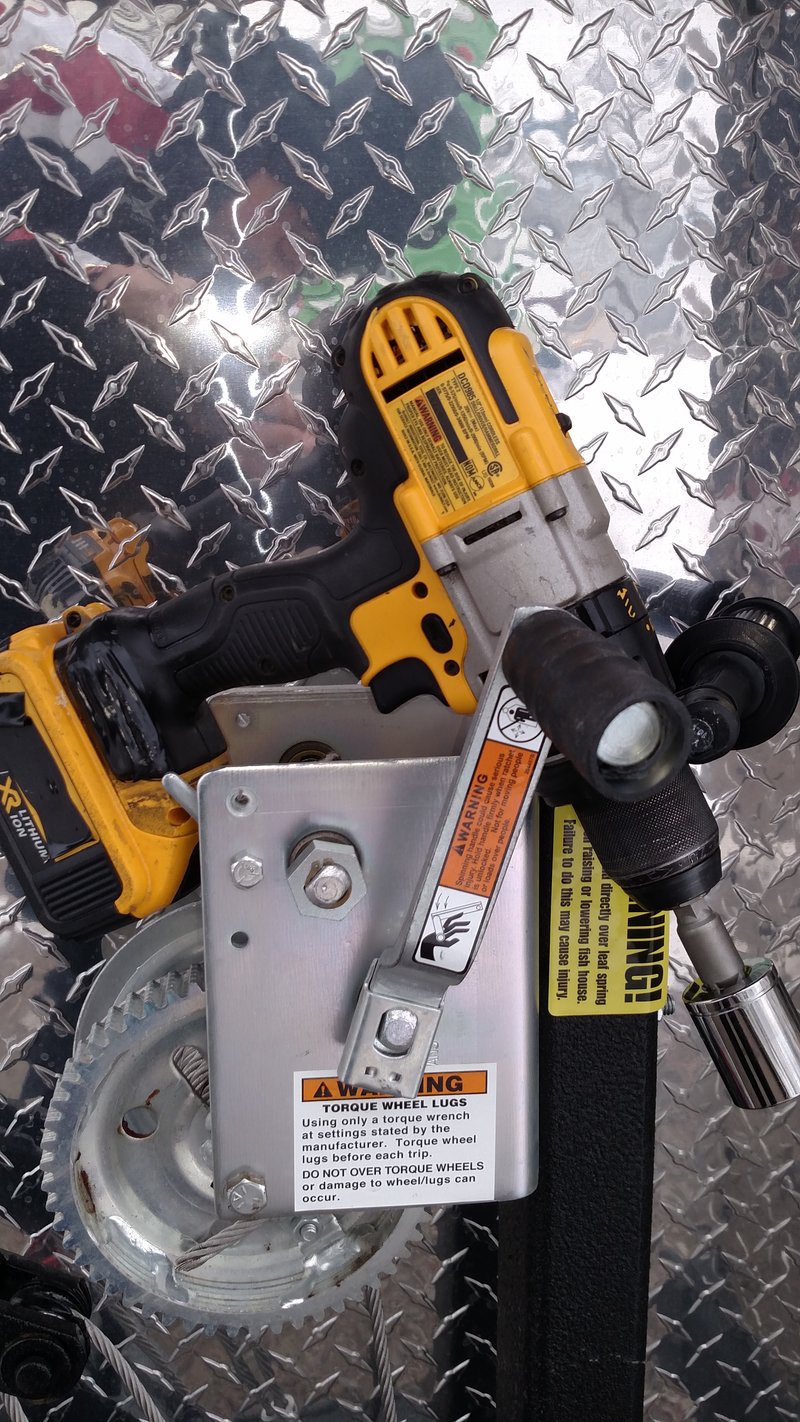 Copyright 2018 ICNUTS USA. All Rights Reserved. Except as noted otherwise, the content of this website, including the text, images and other graphics and their arrangement, are copyrighted by ICnuts Company. or affiliate, associated and/or related companies. The ICNUT is protected by one or more patents or claims of patents in the U.S. and elsewhere.