Universal Winch Driver TooL Operates 1 Winch for Boat Trailers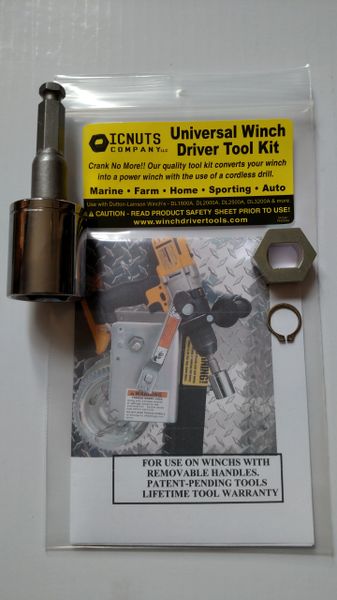 Universal Winch Driver TooL Operates 1 Winch for Boat Trailers
This Product is not available for order at this time the item is sold out the product will be available for the boating season staring in late February  early March of 2019 please check back later Thank You.
This kit only operates 1 winch reccomended for boat trailers . Not Recommended for fish houses.

This kit includes 
 1 socket
 1 industrial steel drill to socket adapter
 1 snap ring
 1 nut driver with(- lifetime breakage warranty )zinc coated to prevent rust.
This item ships fast by priority mail will arrive to your door in 1 to 3 business days tracking and a receipt will be emailed to you.
 Copyright 2018 ICNUTS USA. All Rights Reserved. Except as noted otherwise, the content of this website, including the text, images and other graphics and their arrangement, are copyrighted by ICnuts Company. or affiliate, associated and/or related companies. The ICNUT is protected by one or more patents or claims of patents in the U.S. and elsewhere.

Thank you for your business we strive for great customer service and fast shipping u can email us any day of the week and you will get a response to your questions or custom orders.
We do not ship this item outside of the USA at this time all orders will be cancelled if you are trying to ship outside the United States of America.