Tandem Axle Replacement Pulleys & Hardware Kit For Ice Castle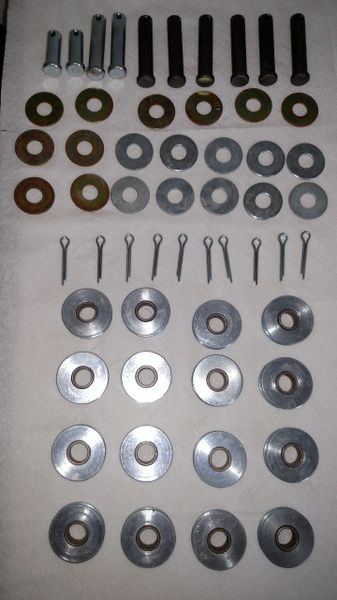 Tandem Axle Replacement Pulleys & Hardware Kit For Ice Castle
IN A HURRY WE SHIP FAST

THIS ITEM IS IN STOCK AND SHIPS PRIORITY MAIL ARRIVES IN 1 TO 3 BUSINESSES DAYS WE WILL SEND YOU TRACKING INFORMATION AND A RECEIPT BY EMAIL AFTER YOUR PURCHASE THANK YOU.
Here is a Universal kit we put together based on a Ice Castle tandem axle Fish House repair job we did in our shop a several times .
This kit includes the following below.
16 Pulleys 1-1/2 diameter
10 thick washers
10 thin washers
 6  1/2-2-1/4 Pin Rear
 2  1/2x2 Pin Rear
 2   2 1/2 1-1/4 Front Pins
10 Cotter Pins.
We suggest always measuring your pins and pulleys to make sure this kit fits your needs it has worked for us several times . Most of the time your old washers u can reuse as well as most of your pins this kit will save u time running around for things and save you money as well.
If u have questions or need something different in the kit please email us @ www.winchdrivertools.com 7 days a week 8 am-5 pm  Or call customer service.
We can custom build you a kit using any of these items just call or email customer service.