Shaft Retainer Zinc Plated Pair x (2) Replaces Gold Zinc Eclip Retainer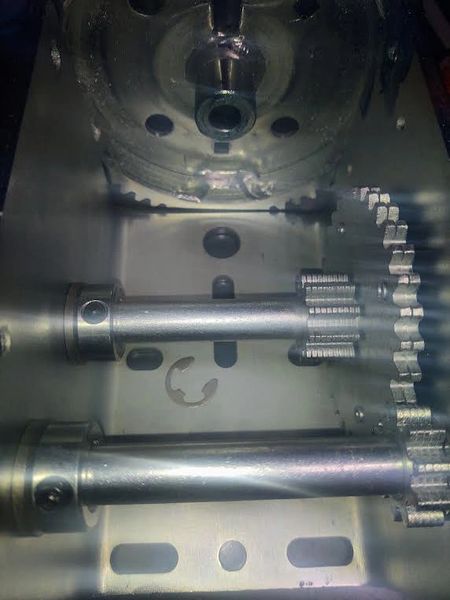 Shaft Retainer Zinc Plated Pair x (2) Replaces Gold Zinc Eclip Retainer
So we have seen some users with other machined socket all in one type tools for a drill that put pressure on the gold zinc retainer shaft clip which can cause the clip to fly out or also not lubricated zinc retainers or wavy retainers fly out. We have even seen the groove that the gold zinc retainer locks into with to much zinc plating stuck in the groove where the factory did not get the clip installed or locked in properly. The ICNUTS Drill adapter socket hits the winch body or housing before pushing on the winch shaft preventing any pushing on the winch shaft . Other brands have caused vibration because of a welded stem or poor quality fitment we believe all of them are to shallow that do cause pressure on the winch shaft retainer E-clips they also can damage the winch handle retainer groove so handles fall off on the highway. So we have found these parts that act as more of a better solution so you eliminate shaft E-clips.
So this is something u would modify your winch yourself this is not recommended or offered from the factory also voids factory warranty we assume no liability for what you did to modify your winch as this part was not manufactured for purpose of winch use its a bulk universal shaft lock bushing inside diameter fits the shaft in a winch.  
Part #2024
 This kit is for a pair of lock bushings with set screws( no Loctite is included) it is recommended for install blue or red will work clean set screw install thread locker to set screw use Allen wrench Sae to tighten .
These are easy to install in right hand winch's goes quick its the left hand winch requires factory winch shaft bushings to be pressed out carefully we have found a deepwall 1/2 drive socket size 17mm thin wall chrome socket to work for this task.
So this part from us you will slide over factory winch gold zinc retainer groove just so you cover groove with edge so you leave same factory play so shaft can move right to left as the factory set it up to be,
When you reinstall winch shaft with factory bushing behind it do not hammer hard on winch shaft gear you will bend them light taps or use a press until seated 17mm socket with 6" tool extension will help with this any bolts tighten until snug overtightening of winch cable drum bolt can cause issues with winch gears. Spin winch on bench after work is preformed oil etc make sure everything sounds and acts proper before putting back onto your trailer,
We have tried this seems to be bulletproof however as a dealer we only use the factory zinc retainer clip that they recommend we really do not see many customers per year with this problem the factory is changing procedures to help to prevent this but like we said it is mostly from all in one tools we see these problems here.